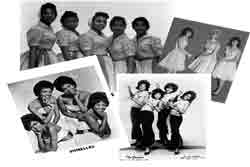 Girls! Girls! Girls!
This section is all about the GIRLS! We have included CDs (both group artist and compilations) recorded by 'girl groups'.
The following compilations/various artist CD's are available from Doo Wop Shoo Bop, at the present time. This list will be periodically updated as material becomes available.We have also included track listings of each CD (click on titles to view tracks) and pricing information.
---